Family
Tulku Lodoe hails from a modest family in a nomad community living in the foothills of Mount Amnye Machen Pomra  in Golok, near the source of the Yellow River. According to the Ru-mzod patrilineal clan lineage his family belongs to the eminent Ju clan. Several reincarnated masters were found in his family. They served the communities of Golok and beyond.
Tulku Lodoe Rinpoche's great-uncle Sangye Tulku Shenpen Rinpoche was a cousin to the famous polymath Ju Mipam Rinpoche (1846-1912). Their nomadic family groups came from Dzachuka in Kham. Sangye Tulku Shenpen Rinpoche was one of the five great tulkus of Amdo Golok. He departed from this life in the political upheavals of the 1950s. At the time of imprisonment of the 5 great tulkus, they saw through clairvoyance the great obstacles to their dharma activities to come. As they had no attachment to the body and the self, 4 of them practised transmission of consciousness (Phowa) to be reborn at a later time.
Two of Tulku Lodoe's uncles, Sherab Rinpoche and Ugong Rinpoche, were recognised as reincarnate lamas. When he was still quite young they would accompany Tulku Lodoe to teachings of eminent masters such as H.H. Penam Rinpoche, Akyong Tokden Rinpoche and Khangsar Tulku Tenpé Wangchuk Rinpoche . The grandfather of Tulku Lodoe was an important spiritual leader as well.
Tulku Lodoe Rinpoche's uncle Sherab Rinpoche studied extensively under Akyong (or Achung) Tokden Rinpoche (1930-2002), the great exponent of Lama Yangtik residing at Dzogchen Sri Singha Monastery. The Tokden Rinpoche was called Lodoe Gyaltso and the same auspicious name was given to Lodoe Rinpoche.
Enthronement
At Tulku Lodoe Rinpoche's birth in 1978 auspicious omens were reported. In 1987 Tulku Kunsang Namgyal and Nangwa Tulku Pema Thekchok from Palyul Tarthang Monastery and other venerable monks convened and unanimously decided to enthrone him at Chadongri Tashi Yalpel Ling Monastery. He was recognized as the 6th Choying Rangdrol Rinpoche. The ceremony was attended by a large religious and lay audience.  At the same time venerable Rigzin Gyaltsen, an exponent of the Nyingma school, was appointed as his tutor. From him Tulku Lodoe learned the fundamental subjects and rituals with ease.
Rime Study and Retreats
At the end of 1987 he received the Nyingtik Namchö synoptic explanation and practised the preliminary Bumnga exercises under the aegis of Khenchen Ngawang Delek Rabgye from Longkya Pel Ngedon Mingyur Dechen monastery.
When he was 12 years old he took the Sramanera vows from Lama Kelden Gyaltso from Dzamthang Monastery and received the Kalachakra and other teachings from this master. At age 13, he formally began to attend Longkya Pel Ngedon Mingyur Dechen Monastery. There he paid homage to H.H. Ngawang Pema Namgyal Palzangpo Rinpoche with sincerity and all his heart. It was His Holiness who had previously given the name Lodoe Gyaltso to him.
From this master he received the threefold training of initiation, transmission and explanation of Dzogchen. Tulku Lodoe also practiced the sixfold Kalachakra Sampannakrama (Dzogrim) for 6 years, in two three-year-retreats, guided by His Holiness. Furthermore, the realised Akyong Tokden Rinpoche, Khangsar Tulku Tenpé Wangchuk Rinpoche and others tutored him in Dzogchen, especially the threefold training of initiation, transmission and explanation according to the Nyingma tradition. At the age of 23 he returned to his own monastery and became a highly respected Lama in that area.
Pilgrimage and further studies
When he was 29 years old, he went on pilgrimage to the holy sites of Tibet, Nepal and India. In Tibet, Tulku Lodoe Rinpoche circumambulated the holy Amnye Machen mountain of his birth region and the three Chenrezig mountains in Yading, Gardze T.A.P. He had the honor to visit Khenpo Jigme Phuntsok's Larung Gar Monastery and all the great temples and monasteries of Lhasa. Finally, he visited Samye Monastery, the first Buddhist monastery in Tibet and the place where Guru Rinpoche summoned the mountain god Machen Pomra and made him a protector of Buddhism.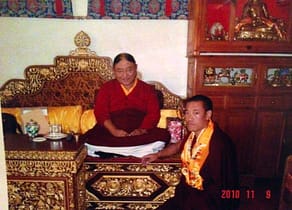 In Nepal he went to see Yangleshod, a sacred cave of Guru Rinpoche, whereas in India, Tulku Lodoe Rinpoche visited the great sites of Buddha's life. Among the Tibetan monasteries in India, he paid homage to H.H. Sakya Trizin Rinpoche at Sakya Dolma Phodrang, the Gyuto Monastery where H.H. Gyalwa Karmapa resided, Ngagyur Mindrolling Monastery and so on. After having finished this pilgrimage, he steeped himself in the threefold practice of study, contemplation and meditation of Sutra and Tantra at Sera Jey Monastic University and Namdroling Ngagyur Nyingma Monastery.
Monastery leader
In the autumn of 2014, the great abbot Gar Khentrul Thubten Lungtok Yonten Nyima Rinpoche and the Secretary of Chadongri Monastery put the question of the continuation of the monastery lineage before H.H. Garwang Nyima Rinpoche. His Holiness performed many prayers and a unanimous decision was reached. In view of the auspicious close interrelationship between H.H. Garwang Nyima, the Khentrul and Tulku Lodoe Rinpoche, the title and rank of abbot would be conferred on Tulku Lodoe in the future. Tulku Lodoe Rinpoche was formally requested to agree to the position of supreme leader of Chadongri monastery and he accepted the office. The decision was authenticated with the monastery seal. He received an abbot's ceremonial great brocade cloak (Zawok Virchen or Za'og Ber chen), a lotus hat and an official letter.
Tulku Lodoe Rinpoche is compassionate to all sentient beings and a kindhearted person. Your support of his religious and charitable projects, such as aid to the poor, establishing schools and assistance to monasteries, will be deeply appreciated.